High-presicion machines, Vacuum and Cleanroom technology
Vacature Mechanical Engineer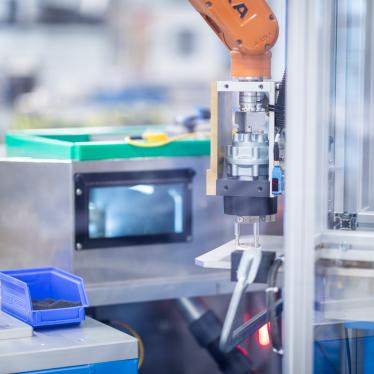 Deze vacature in het kort
Aachen, Duitsland
Fulltime of Parttime
40
Are you a Mechanical Engineer who has ambition to grow to a Lead Engineer for projects in the High-Tech industry? Are you a technical professional with an interest in cleanroom technology, high precision machines and vacuum technology? Then we are looking for you as a Senior Mechanical Engineer in Aachen!
Responsibilities
When working as a Mechanical Engineer at FMI ImProvia in Aachen your will have a variety of responsibilities. You will work on High-tech projects in a small team. Your daily activities include:
Engineering of installations according to specifications which are based on the wishes and standards of the costumer.
Create a concept design for a one-of-a-kind installation together with the client, translate the concept design to detail design together the junior engineers on your team.
Ensure standardization of the output of the team though work instructions for designers and constructors.
Make user manuals, maintenance schedules and quality plans for the designed installations.
Arrange for a systematic archiving of project documents en drawings which is also accessible to third parties.
Present cost prices of the engineering activities, together with the technical concept quotation and maintaining an active relation with suppliers.
Coach and train junior engineers on your team.
We offer
When working at FMI ImProvia as a Mechanical Engineer we offer you:
A competitive salary based on a fulltime employment
30 vacation days per
Travel allowance
Grow into the role of a lead engineer within a year
The possibility to follow different training and courses
Options for a German or Dutch contract
A chance to be part of a rapidly growing business which provides a lot of different future perspectives.
Besides that, you will work in a small team where you have the possibility to work on technically interesting projects for innovative clients who are market leaders. You will guide and train junior engineers to a higher professional level which. We provide you with the possibility to grow as an engineer, so you never stop developing yourself.

Requirements
We are looking for you as a Mechanical Engineer to expand our team in Aachen. This means we are looking for someone who is confident, self-sufficient, open-minded and most of all a technical professional. You are looking for a small and young team which you can help grow. We require that you have:
A bachelor's degree in Mechanical Engineering.
Experience with designing in various CAD programs such as, Siemens NX, SolidWorks.
Experience with vacuum technology, high precision machines cleanroom technology (preferred)
Experience in semi-conductor industries (preferred).
10 years of experience as a Mechanical Engineer designing machinery or automation design. This means you have a knowledge of designing, detailing and assessing various machines.
Your knowledge of the English language is excellent.
You have a knowledge of the German language.
Your communication skills are good, which makes you capable of motivating a team.

Why work at FMI ImProvia?
When you work as a Mechanical Engineer at FMI ImProvia you will come in to contact with loads of technical challenges within Industry, Infrastructure and Energy. You get the chance to immerse yourself with various technics. You will achieve this by working for and with diverse clients in fields such as Machine Construction, High Tech and Robotics.
As an employee of FMI ImProvia, you get the opportunity to shape your own development. You can think 'out of the box' and enjoy working in an organisation where there is a high level of open-mindedness, independence and responsibility.
FMI ImProvia employs 200 passionate engineers and technicians who are happy to take on new challenges every day. This allows us to offer our customers the best possible solutions. We take responsibility for the success of our customers throughout the use of technology. We do this out of our offices in the Netherlands, Germany and Poland.

Apply
Did this vacancy spark your enthusiasm, and would you like to learn more about the possibility as a Mechanical Engineer in Aachen? Do not wait any longer and send your resume today by clicking on the apply button.
Acquisition in response to this vacancy is not appreciated. No rights can be derived from CVs that are supplied unsolicited by temporary employment and secondment agencies.
Het sollicitatie proces
Na je sollicitatie nemen we binnen 2 werkdagen contact met je op om onze vacature en je sollicitatie verder door te spreken.

Vervolgens bespreken we je gegevens intern en volgt er een uitnodiging voor een eerste gesprek met 2 collega's (op locatie of via Teams).

Wanneer alle partijen enthousiast zijn volgt er een tweede gesprek met de BU manager en een andere collega.

Ben jij de kandidaat die FMI ImProvia naar grote hoogte brengt? Zie jij de uitdagende technische projecten en ontwikkelmogelijkheden binnen FMI ImProvia helemaal zitten? Dan gaan we in gesprek over een passende aanbieding!